References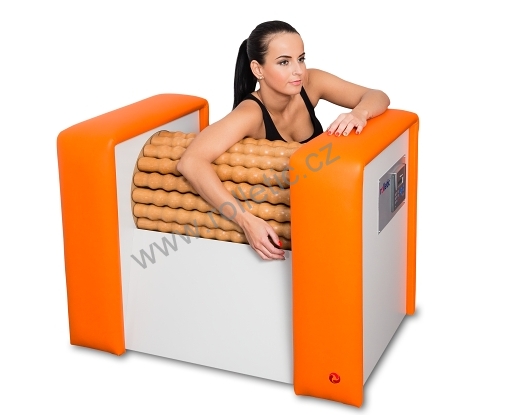 Jana Lhotská (Slender Life, Brno)
I have been using the Rolletic Original and I am very satisfied with it because it is a real professional machine. My customers can see the results after a few applications and, therefore, have a reason to come back next time. And importantly, any time there was a technical problem, not even hindering the machine´s proper use, the company sent a technician within few days, who fixed everything. This is what I appreciate most about it.
Jan Julenyi (Anna Relax Centrum, Cookstown, Northern Ireland)
We experienced immediate effect of Rolletic represented by revitalizing the whole body and encouraging the blood circulation due to which fatigue and stiffness fades. The pleasant feelings are even more present due to vanishing pain of back and joints. To sum it up in a single line: "The main advantage of Rolletic is you get rid of unpleasant thing without pills – in a pleasant way."

Dana Rybářová (Brno)
I used to visit a local Rolletic studio but, unfortunately, I haven't got much time to do so lately, so I purchased one into my bedroom. I use it twice a week and in roughly half a year I can honestly say, it is helping me. My skin is softer and I feel better. Not mentioning the fading centimeters in my waist and hips.
Lenka Smehliková (Lenka Massages, Vyskov)
I am very satisfied with Rolletic. The skin gets smoother and the centimeters vanish. There really is a visible effect, which can also be seen in the discussions on the Internet with 90% of grateful Rolletic users.

Jana Vasovcova (Prague)
I bought Rolletic about three years ago. I like to use it after a hard day at work where I sit all day at my PC. My back hurts in the evenings. Rolletic Original can help my body restore its blood circulation and refresh the irritated skin. Besides, I forgot what cellulites means. Not speaking of the fact that within last three years it has not lost any of it brand new look, and I have had absolutely no problem with it so far.
Jana Povova – lymphatic therapist – 23 years' experience in physiotherapy (Prague)
I have used the massage device Roletic Original for eight years. I can confirm that massages performed by Rolletic form the figure and body posture effectively, they also firm and smoothen the skin, detoxifies the organism. The average loss in various body parts after ten hours ranges between 8-12 centimeters, on the condition of keeping the drinking regime.
I have very good experience with Ballancer, too.  It helps me treat the swellings and it works against the malfunction of the lymphatic system. Last but not least, it detoxifies the organism. It has a brilliant effect when applied on the upper part of body (the applicator called the Jacket).Thanks to its unique construction it is on of the high-end products on the market. Combining Ballancer with Rolletic Original in body therapy, you can achieve better results in figure shaping and efficiency while cleaning the organism.
Jaroslav Kugler – a masseur of the HC Skoda Plzen and the Czech national hockey team The massage trousers and the Ballancer device are used by the players quite frequently. It is due to growing fatigue from the great number of matches and growing interest from the side of the players who had not used them before. If there is not enough time to regenerate for a player, the risk of muscle injury gets higher together with generally slower ability to react in dangerous situations on the ice. To us, masseurs, it means basically no work at all. We simply put a player into the trousers and pay our attention to someone else. The players usually sleep during these procedures thanks to their overall relaxing effects. We take the machines with us on the road, especially, if we spend night in hotels. The fact that these devices are easy to transport is one of their biggest advantages. If it is possible, the players take the lymphatic Ballancer home to regenerate individually because the procedure does not require assistance of an expert.  

Zaneta Havlickova (Zdravá cesta, Ostrava)
The lymphatic drainage Ballancer 505 represents an ideal combination of relaxation and massages. It is also a reliable help in the fight against cellulites. It helps to heal swellings and detoxifies the organism. We recommend it as a sufficient additional treatment after injuries and orthopedic surgeries.
Petr Novák (Spindlerova Bouda Hotel, Spindleruv Mlyn)
The lymphatic drainage Ballancer is frequently used by both sportsmen or just people who care about their health. The lymphatic drainage activates the lymphatic system and enables the body to get rid of toxic sediments. It can also help to heal minor forms of spastic veins of people who cannot afford leg massage.
MUDr. Jakub Harlas (Aestetic clinic – Laser centre, Plzen)
We use the Ballancer at our clinic to apply lymphatic machine massage, i.e. lymphatic drainage system of the upper and bottom limbs, and removal of cellulites. The customers experience magnificent results and comfort during the therapy. All our clients have been more than satisfied with it. The clinic has achieved only positive results with great number of flawlessly applied procedures. I honestly recommend it to everyone.
Jana Kovandova (Melnik)
At work and while driving, my legs would get swollen, so I got recommended the lymphatic drainage. Unfortunately, I cannot afford it time-wise to take the procedure in a salon, so I bought my own Ballancer 505 together with the trousers. It is evident that this machine is a high-end one. Smooth control, quality design and especially, high quality lymphatic drainage. My legs do not get swollen anymore and I feel better. I think I lost some weight, too. That is due to bodily restoration and decontamination of sediments. As for me, I recommend the lymphatic drainage Ballancer.
Hana Valterova –  Ladne Krivky salon (Horni Briza)
I am very satisfied with the services of the BS Systems. Since the first meeting, everything has been dealt swiftly and smoothly. I have been given detailed explanation of the financial conditions of the partner company. The goods delivery including instruction really happened the way it had been agreed on. I keep in touch with BS Systems, we meet regularly, and I can fully rely on their help and advice.
Petra and Roman Pilat – Recondition studio POPI (Prague)
BS Systems, Ltd. caught our attraction while searching a reliable  supplier of lymphatic drainage Rolletic machines for our Recondition studio. It all ended up by having purchased two items from BS Systems. It is important to mention the attitude of the BS business agent. In a few words, he acted professionally, helpfully and thoughtfully. Not many businessmen attain such qualities and we therefore express our thankfulness for that. The machines in our studio delivered by BS Systems have been functioning flawlessly. Our female clients like them, that is why they return to our studio. The communication and service are performed on a high standard level. We can only recommend BS Systems Ltd.
Women like to have Rolletic at home
I wish you a beautiful day. I cannot say what your day looks like, but mine really is beautiful. I have got your Rolletic. Actually, it belongs to me now. Thank you for the speed and reliability. I would also like to thank the men who delivered the machine and instructed me on its use and control. A reliable team they were! I wish you many satisfied clients and luck in your business activities. Your happy customer – Alena Maschkanova (Hanuliakovo)