What can Rolletic® Original do?
Reduce size of treated spots (decrease in cm)
Tighten muscles
Smooth skin
Break down fat pads
Eliminate cellulite
Support blood stream
Release muscle tension
Support the flow of lymph (lymphatic circle)
Form the body
Be a good helper in beauty salon or wellness center
Earn solid income to its owner
From the salon owner's perspective:
clients achieve results so they keep coming back for more treatments
quick ROI (return of investment)
Rolletic® Original is not medical device – no special license needed for operating it
there is no need for assistance or supervision when using it; you can place more machines in the studio and have only one employee
long durability (many years with full daily use)
minimum failure rate (no technical problems) – production since 1997
low electricity consumption
no need for technical maintanance
easy way to attract more customers and increase income
Rolletic® Original – controller: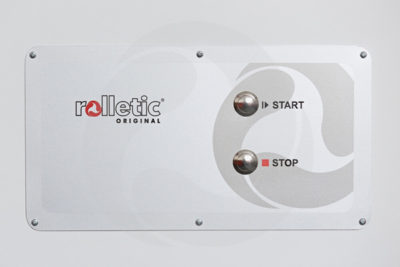 CLASSIC PRO is a basic model of Rolletic® Original. The simplicity of its operation (only ON/OFF buttons), ergonomic design and the great effects for its users made out of this machine one of the most popular products of our company. Rolletic® Original – Classic PRO is most often purchased for home use, but it can also be operated professionally in small salons and centers.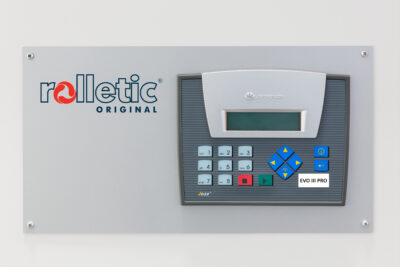 EVO III PRO is a top model of Rolletic®. It is equipped with an electronic controller that has predefined treatment procedures; 3 for body forming (aesthetics) and 2 for recovery after sport (fitness). These treatments and their times are displayed on LCD. All other counters are included as in Time Pro model. The Rolletic® Original EVO III PRO model is suitable for everyone, who has the highest requirements for Rolletic®.
Why is Rolletic® Original better than its copies?
Unique shape of the rollers for perfect massage – no need for infra red light that other producers use to cover the low effects of their rollers
Constant speed of rotation – any change of speed is unsuitable for this kind of massage
Selected beech wood from a Czech carpenter is used in the production. The carpenter mills the wood using a modern 5-axis CNC and their wood is used in Lego kits
All of our component suppliers are carefully selected, their parts are of to the highest quality and standards – upholstery is supplied by a Czech company that equips brands such as Audi, Volkswagen, Skoda, Mercedes-Benz, Porsche, BMW, Lamborghini and British Airways; engines EMP Slavkov, SKF bearings,…
Top quality of work (manufacture) – zero fault rate – production since 1997!
Massive construction and bigger weight for perfect stability during exercise
Silent run without vibration
No need for any technical maintanance
Rolletic® was developed by prime physiotherapists and dermatologists
Rolletic® Original – Correct treatment procedure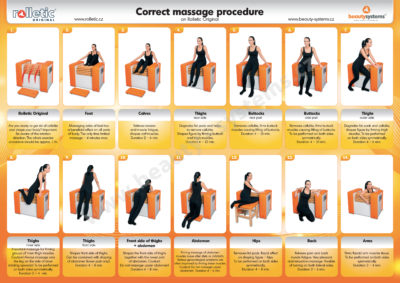 To have the best results in forming your body and treating cellulite, it is very important to follow the correct exercise procedure, that needs to be done on Rolletic® Original. Every user should put a lot of emphasis on following this procedure to get the best results. It is recommended to do 30 to 60 minute treatments, 2 to 3 times a week.
Rolletic® Original  – dimensions:
height: 72 cm
width: 93,5 cm
length: 66 cm
weight: 85 kg + 7kg 1 chair + 2kg 1 knee pad
power: 300 W/230V/50Hz
Each Rolletic® Original includes 1 Rolletic® Original chair and 1 Rolletic® Original knee pad in the same design as the machine. They help the user to do the treatment properly.
Do you need any more information? Would you like a price proposal?
Call us now +420 773 704 222 or contact us using the following form, we'll get back to you ASAP.